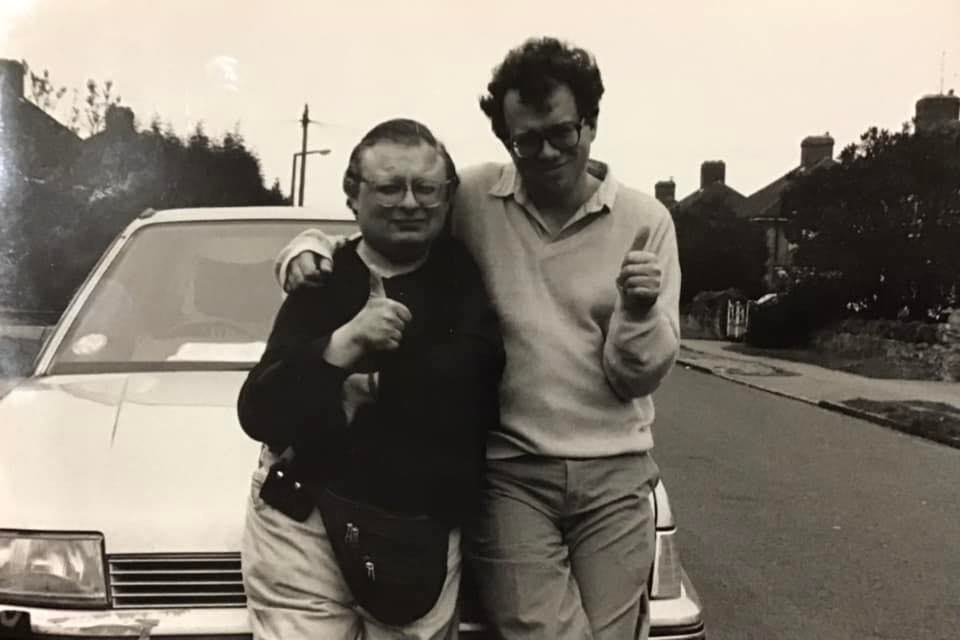 A note on the artist's life by Tom Gill
Typewriter artist Keith Armstrong (1950-2017) was also a dynamic activist for the rights of people with disabilities. He was also a poet, a musician; and a serious scholar of the history and linguistics of disability.
He contracted polio during infancy. In his teens he could just about walk, but at the age of 20 he spent an entire year in hospital, undergoing complex back surgery. He would spend the rest of his life on crutches and, increasingly, in a wheelchair.
Yet he attended countless demonstrations – for CND, housing rights and against the government of the day as well as those demanding disability rights – and was arrested more than once.
Keith's father, John Armstrong, was a South African who had come to Britain to volunteer for the Royal Navy during the second world war, where he met Francis Nina (née Waddilove), who was serving as a Wren. They married and moved to Cape Town after the war.
Nina was pregnant with Keith when his father was killed in a car accident in 1950. When Keith contracted polio, Nina returned to the UK for his treatment. He was fortunate to be sent to Hephaistos School, a newly-established private school for gifted boys with disabilities, near Reading. The headmaster, David Atterbury, had himself lost the use of his legs in an accident at Sandhurst, and he and headmistress Dorothy Woolley defied the contemporary view that assumed people with physical disabilities were also mentally backward. Keith's creativity was encouraged, and at 16, he launched his own poetry magazine, the Informer. I met him around this time on a CND march, when I was five years old, through his friendship with my father, who helped him edit the Informer.
After spells of homelessness and squatting in early 1970s London, Keith acquired a council flat in Somers Town, north London. Hundreds of activists passed through the flat, many of them working as his helpers, and he influenced all of them. Keith's disability forced him to share his life with a long series of strangers; most would become friends, but there were one or two who stole from him or even physically abused him. Keith, however, was always genial and hospitable – many times I slept on his spare bed or sofa as a schoolboy visiting London. The air was thick with marijuana smoke and there was always some excellent music on the stereo.
Keith's experience of being forced to sit in the guard's van on British Rail trains in the 1980s was a formative experience, described in his paper "Travelling Behind Bars: Rail Travel in the UK in the 1980s", which may be viewed on his Academia.edu page. It put a fire under his activism, and led to his internet handle, "ruhuman", the title of the book of his typewriter art that Barrie Tullett and I published in 2022. He strongly felt that he had been treated like a piece of luggage, not as a human. He was involved in the campaign for accessible transport of the '80s and '90s, during which he was arrested with six others for blocking New Oxford Street. The case was thrown out of court as the courthouse did not then have ramp access for the accused wheelchair users.
Despite a strong distrust of government, he became an adviser to several London boroughs, including Ealing and Camden, serving on the management committee of the latter's Dial-a-Ride scheme during the 1980s, serving as its chair for a spell (1984-1986), and to London Transport. In 1986 he was a consultant to the Greater London council on its disability awareness handbook, and in 1994 he went on a mission to research public transport accessibility in the US.
He continued protesting throughout the 1990s and 2000s with the Disabled People's Direct Action Network (DAN), whose campaigning led to ramps in buses and improvements to tube and train access, as well as the introduction of the Disability Discrimination Act in 1995.
From his teenage years, Keith sparkled with energy and enthusiasm. He successfully doorstopped J.R.R. Tolkein for an interview for his school magazine. That encouraged him audaciously to ring up famous poets and shanghai them into writing for his magazine, a budding impresario. The best of his own work was in that sweet zone between poetry and art — concrete poetry and typewriter art. His work as a typewriter artist is included in Barrie Tullet's Typewriter Art: A Modern Anthology (2014) and Marvin and Ruth Sackner's The Art of Typewriting (2015). His music can be heard on SoundCloud, under the name "ruhuman". Keith also wrote academic papers: several were about the Roman emperor Claudius, who fascinated Keith because of his struggle with disabilities including deafness and a limp.
Keith did not suffer fools gladly. He never hesitated to ask for assistance and wouldn't apologize for his special needs. But he enjoyed a laugh, often at his own expense, and was unfailingly kind and generous to anyone who needed help. He saved many from homelessness by letting them stay at his flat for days, months or even years.
Keith died of cancer in May 2017. He had been poorly for some time, and despite his huge circle of friends and acquaintances, he had few visitors in his dying days. One of the few was my cousin, Liz Taylor. He was estranged from his family and initially there was no-one to clean up his flat in Somers Town except Liz and myself. Eventually appeals on Facebook brought other friends of his along to help us out. Still, it was a gargantuan task. Keith rarely threw things away and the entire flat was stuffed with books, records, cassettes, activist pamphlets, agendas and minutes of meetings, musical equipment, artworks, posters, coffee mugs, wine bottles etc. There were hundreds of copies of his 1978 7" double A-side single, An Amazing Grace/Space Boogie, and other ill-fated commercial ventures. It was desperately hard to separate the rubbish from the really important stuff.
Among the latter were the works of typewriter art featured in RUHUMAN. Liz and I are delighted that at least one facet of Keith's creative genius is getting the careful and thoughtful treatment it so richly deserves. Just to give some context to the works, here are some places where the other fruits of his activism and creativity may be found.
* Keith's Youtube page features 52 videos. They include several video presentations of his typewriter art, and the brilliant video "SHAPES: Minimal Photocopying", which displays yet another deeply original form of expression in which Keith uses photocopies of blank paper to create blocks of black (occasionally other primary colours) and white space slightly reminiscent perhaps of Malevich and Soviet supremacism. And then there's a video showcasing Keith's hand-drawn abstract art which is also highly original, with brightly coloured interlocking geometrical forms that interestingly complement the typewriter art collected here. All of these art videos feature musical soundtracks composed and played by Keith. His electronica also deserves a wider audience, and the sequences of his artworks and their interrelationship with his music add up to yet another art form.
* Keith uploaded some 30 assorted papers to Academia.edu which are still freely downloadable. They include rare issues of PROMPT (Preservation of the Rights of Mental Patients in Therapy) magazine, and papers on disabled access to public transportation, the history of wheelchairs and tricycles, linguistic analysis of the word 'cripple', the Emperor Claudius, etc.
* Records of Keith's work as a disability activist are preserved in 18 cardboard boxes at the Bishopsgate Institute in London.
* A few more items, relating to his artistic activities, are preserved at the National Disability Arts Collection and Archive in High Wycombe, west of London.
* Some of Keith's music may be found on Soundcloud, including his collaborations with radical American folk singer Elaine Kolb, British folk singer Frankie Armstrong (no relation) and his good friend Richard Hall.
Keith Francis Whitfield Armstrong: Born Cape Town SA, 7 April 1950. Died London, 7 May 2017.